McCracken Hall will be renowned for the family whose dedication to public education inspired transformative gifts at Ohio University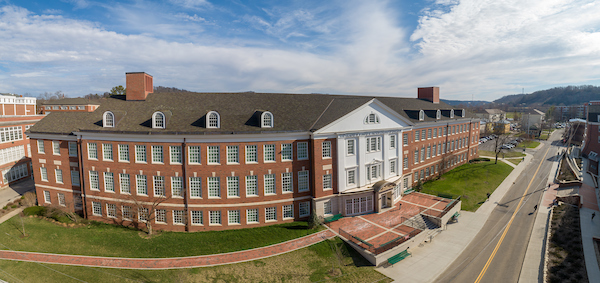 [ad_1]
The Ohio University Board of Trustees passed a resolution to rename the home of Gladys W. and David H. Patton College of Education from its current name, McCracken Hall, to Gladys W. and David H. Patton Hall.
The board's vote to change the name of McCracken Hall to honor the Patton family took place at its October meetings on the Athens campus.
"In consultation with Dr. Patton and in recognition of his extraordinary generosity and the impact of his continued commitment to advancing Patton College and arts education at Ohio University, Patton College, the Division of University Advancement and the Ohio University Foundation recommend that the building that houses Patton College be renamed Gladys W. and David H. Patton Hall, "said Nico Karagosian, vice president for academic advancement and president and CEO of Ohio University Foundation.
Patton College was named in honor of Dr. Violet L. Patton, BSED '38, and her philanthropic commitments to the college. Violet Patton, who celebrated her 105th birthday on Aug. 30, pledged $ 13.3 million in 2010 to establish the Violet L. Patton Center for Arts Education, and an additional $ 28 million to honor her parents, Gladys W. and David H. Patton, with the denomination of the College. She committed an additional $ 22 million in 2019 to support capital projects to which she has demonstrated unwavering commitment and passion over the past decade.
David H. and Gladys W. Patton were long-time supporters of public education. In 1951, Dr. David H. Patton was chosen as director of the Syracuse Public School System, for a ten-year term. Gladys W. Patton was also an educator and worked with her daughter, Violet Patton, to write a series of etiquette textbooks for children.
The current McCracken Hall was approved for renovation in 2015, a project made possible in large part by the generosity of Violet Patton. All parties involved also acknowledge the contributions of Thomas Cook McCracken, for whom the building was named in 1963 due to his service as Dean of the College of Education and First Marshal of the OHIO. The appropriate interior space will be identified and named in honor of Dr. McCracken at a later date.
"Violette Patton's deep and enduring commitment to education and the arts, and to the facilities in which learning takes place, has provided a transformative opportunity for Ohio University and its students, "said The Gladys W. and David H. Patton College of Education
Dean Sara Helfrich. "Dr. Patton's commitment has generated a clear legacy for the Patton family, and his generosity is astounding. His donations continue to truly transform the arts and education at Ohio University and provide unprecedented opportunities. to our students, professors and staff. "
[ad_2]
Source link