WTO consultation for public communication services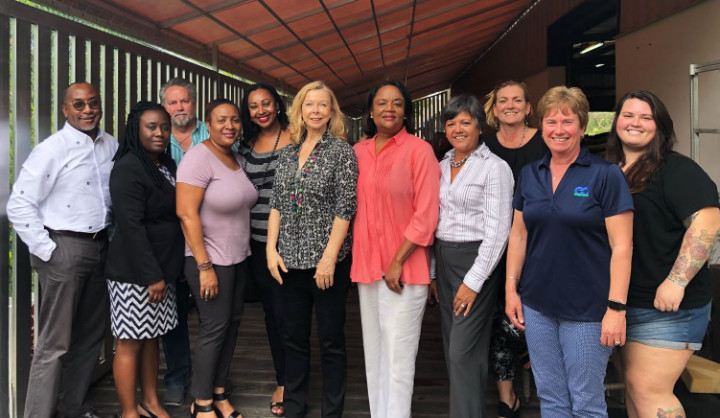 Members of the Association of Advertising and Marketing Professionals of The Bahamas (BAAM!) Recently attended an industry-specific World Trade Organization (WTO) consultation session to better understand the reasons for the country membership and how to maximize the opportunities offered by the global trade organization. BAAM! members include areas of public communication such as marketing, advertising, public relations, research, graphics, production and digital and print content. (Photo – BAAM!)
Nassau, Bahamas – Members of the Association of Advertising and Marketing Professionals of The Bahamas (BAAM!) Recently attended an industry-specific World Trade Organization (WTO) consultation session to better understand the reasons for a country's membership and how to maximize the opportunities offered by the global business organization.
During the sessions, a consultation questionnaire to assist the WTO negotiating team included questions on protectionist measures that might be needed by the industry and to solicit other useful information deemed relevant for the growth of the sector. and its contributions to nation building.
A follow-up meeting was organized by BAAM !, attended by a wider range of individuals and businesses from the range of services provided under the general rubric of public communication. This includes areas of public communication such as marketing, advertising, public relations, research, graphics, digital production and content, design, etc. It was agreed that BAAM! submit a completed WTO consultation questionnaire representing their group's responses, versus individual submissions.
BAAM! has members across the Bahamas. Sarah Kirkby of Freeport-based Barefoot Marketing, who attended the Nassau meetings, coordinates activities in Grand Bahama.
"I had the pleasure of representing our sector at the Nassau meeting. It is important to present a united front when the needs demand it. It has been a pleasure to work on this initiative supporting each other and towards a common goal, "said Ms. Kirkby.
Jana Indi Johnson, Vice President of AdWorks Multimedia Marketing, which runs BAAM !, said raising awareness of the WTO has united public communication service providers in a positive and productive way and has enabled members to achieve consensus on their needs with regard to WTO membership.
"We are happy to come together for the good of our industry when needed. We strongly believe in our joint nation-building contributions and we want to ensure the longevity and continued viability of our industry, "said Ms. Johnson.
BAAM's current goal is to ensure that the concerns of advertising, public relations, marketing and market research companies are taken into account prior to the Bahamas' accession to the WTO. Plus, to push for legislation that will protect their industry. The Association of Advertising and Marketing Professionals of The Bahamas met during the implementation of VAT in 2015 and continues to monitor government and civil society with respect to their business interests. Information about BAAM! can be obtained from Jana Indi Johnson at 322-4652.
The government considers it important to create a more open and competitive economy in order for Bahamians to compete successfully in today's global environment. WTO membership is an important tool that can play a key role in achieving this goal. The Bahamas is the only country in the Western Hemisphere not currently a member of the WTO. This means that unless the Bahamas signs a trade agreement with current and future trading partner countries, they are free to impose any trade barriers they wish against Bahamian goods and services, even if those trade barriers are. contrary to WTO rules.