Walla Walla Public Library Hosts Author for Lecture on Native American Women Teachers in Boarding Schools | Explore the Walla Walla Valley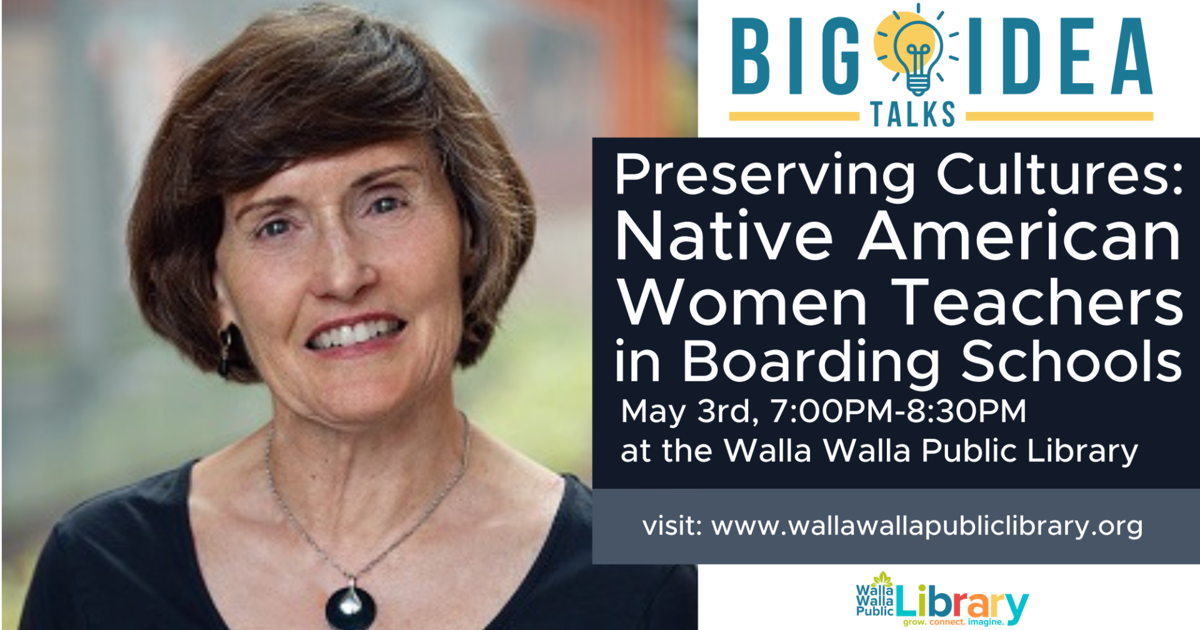 The Walla Walla Public Library hosts Anne Ruggles Gere, Ph.D., to speak Preserving Cultures: Native American Women Teachers in Residential Schools, Tuesday, May 3 from 7-8:30 p.m. at the Library at 238 E. Alder Street in Walla Walla.
Based on her forthcoming book, "Agents of Survival: Indigenous Women Teachers in Boarding Schools," Gere's talk will highlight four Indigenous female teachers at boarding schools during the "boarding school era" 1875-1930 in the United States.
According to the press release, Gere's lecture will examine how ideas have contributed to contemporary progressive Indigenous education. Her presentation will feature Sarah Winnemucca (Thocmentony), founder of a bilingual school in 1885; Alice Callahan, who described a cross-cultural model of teacher education; Angel DeCora (Hinook-Mahiwi-Kalinaka), who helped transform Native American art from an anthropological study into part of the aesthetics of American art; and Ella Deloria (Anpétu Wašté Win), who appropriated the Euro-American contest as a vehicle for affirming Native American history and traditions.
The presentation will also address the phenomenon of Native boarding schools and their horrific legacies more broadly. Gere's interest in the history of Native American boarding school teachers is twofold: as the mother of two Native American girls and as a scholar and teacher of writing and education.
A former president of the National Council of Teachers of English (NCTE) and former president of the Conference on College Composition and Communication, Gere was the 2018 president of the Modern Language Association.
She is also Arthur F. Thurnau Professor and Gertrude Buck Collegiate Professor at the University of Michigan, where she directs the Sweetland Center for Writing and is co-chair of the joint doctoral program in English and education. She is associate director of the Oakland Writing Project in Flint, Michigan.
Masks are optional but strongly encouraged for this in-person-only event. The seats are limited. Please do not attend this event if you are unwell or showing symptoms of illness.
Questions? Contact Twila Johnson-Tate, Public Services Librarian, at [email protected], or 509-524-4443.