Texas teachers call for increased funding for public education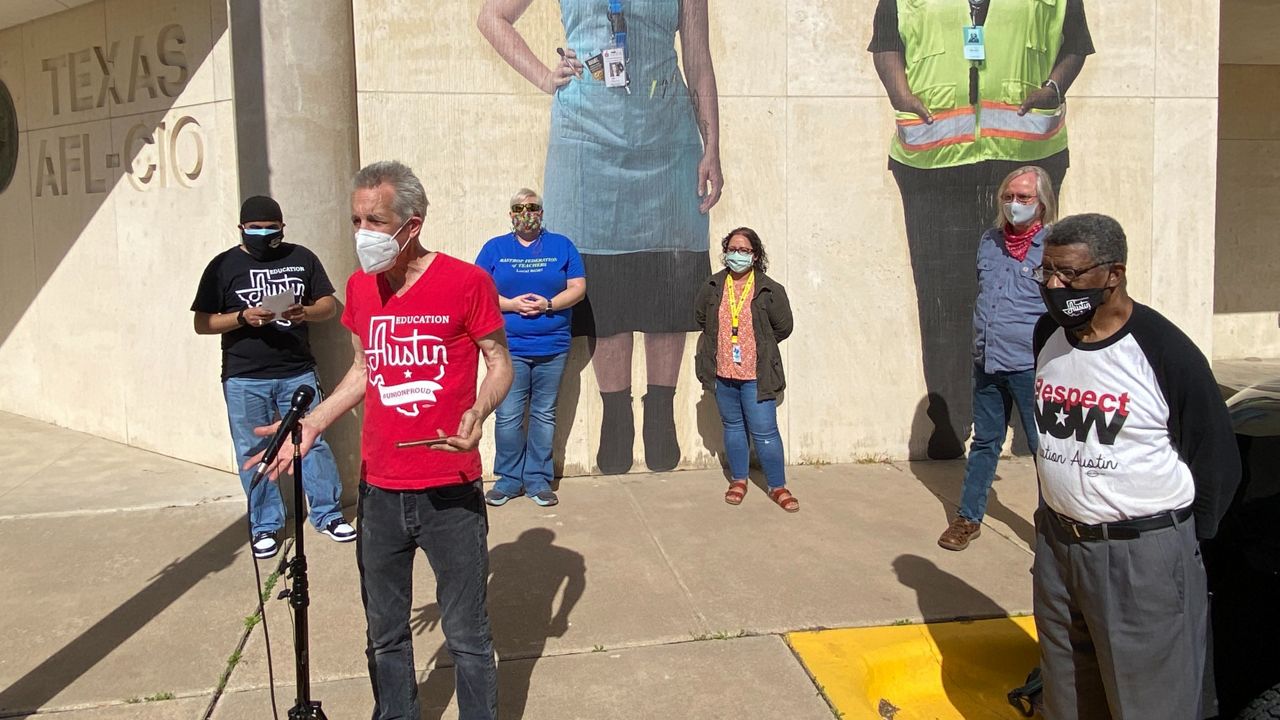 AUSTIN, Texas – Teachers from central Texas toured the State Capitol in Austin on Monday during a caravan-car protest to call on heads of state to cancel STAAR testing and increase the financing of public education.
State funding for public schools is largely based on enrollment and attendance, which has declined dramatically due to the COVID-19 pandemic.
The Texas Education Agency has extended the "Keep It Safe" provision until the end of the spring semester, so these declines in enrollment will not impact funding schools for. this school year. However, teachers say that is not enough, especially when there is still a lot of uncertainty about what the fall semester will look like and whether enrollment numbers will increase by then.
Now teachers are renewing their call for increased public funding for education, especially for federal stimulus dollars to go to schools.
A teacher who attended Monday's event said advocacy work for him is an important part of his job.
"Everything we do is political. Because lawmakers are political, and we have to teach them that this is education," said Roscoe McCormick, 71, a math teacher in the Austin Independent School District. .
In his 27 years of teaching, McCormick has always done his best to make math fun. His college students call him "EMC Squared".
"My first name ends with an E. My last name is MCC," McCormick said.
Last year he did his best to reach his students, despite less than ideal circumstances.
"As long as they show up, I have to give them something. I have to figure out what is going to rock you, what is going to make you turn on your camera, what is going to engage you," McCormick said.
He joined teachers at several central Texas teacher unions on Monday in protest.
"I want them not to hurt students by cutting funds," McCormick said.
They also called for the elimination of STAAR testing.
"Our school should not be rated or supported based on its STAAR performance. It's demoralizing and punitive, it undermines the work that teachers and students do every day in the classroom unrelated to STAAR, "said Selena Castello, teacher at Manor ISD.
For McCormick, being an activist is nothing new.
"I decided that when I started teaching I would always join a union. I heard about the union in college. My specialty was economics and we talked about A. Philip Randolph and the labor movement, "McCormick said.
Before becoming a teacher, McCormick served 22 years in the military. He grew up in a segregated neighborhood in North Carolina, and as a teenager he took it upon himself to move into a local grocery store.
"I asked him, I said, 'Well, I see you don't have black bag boys in the store,' and he said, 'Yeah, so? I said, "Well, why don't you have one?" And he couldn't answer, so I said, 'Well, I'd love to work in your store,' "McCormick said.
He says he had the courage to stand up for what he believes in through his role models growing up.
"I guess it was my teachers, my family and my church. They inspired us to do things that … amazing things, and they said, "Well, if you wanna do that, go for it," McCormick said.
It is a lesson that he still lives today.