Public Education Foundation Announces 10th Cohort of STEM Scholars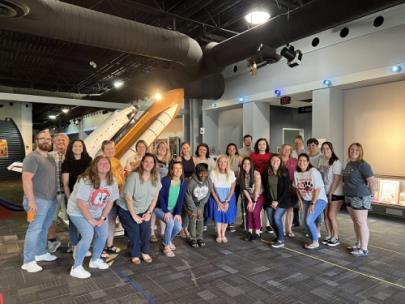 The Public Instruction Foundation announced on Tuesday the selection of 31 teachers from the
Southeast Tennessee region that will participate in the 10th cohort of PEF STEM Scholars
program during the 2022-2023 academic year. Teachers will complete a year of professional training
learn best practices in STEM education and will have many opportunities to visit
businesses in the region that thrive on the STEM skills of their employees.

"We are thrilled to announce this year's STEM Scholars – 31 outstanding teachers who
inspire their students and guide their schools and communities in preparing our children for
the nearly endless opportunities in STEM fields," said Dr. Dan Challener, President of Public
Education Foundation. "These are 31 extraordinary teachers who will make a real and lasting
difference in our region.

The scholarship is led by the PEF Innovation Hub in partnership with Hamilton County Schools,
Benwood Foundation and the Tennessee STEM Innovation Network. Designed to help the teacher
leaders prepare students for today's workforce, STEM scholars engage in series of site visits
and structured learning sessions with local business and industry partners including Volkswagen,
the Chattanooga Business Development Center and Branch Technology.

"STEM Fellows have created a strong and growing network providing teachers with opportunities to
elevate their practices in new and innovative ways while being able to connect with others
innovative educators in the district," Superintendent Justin Robertson said. "The program
gives teachers the opportunity to connect with community partners and allows them to deepen
in learning, which only increases the quality and quantity of opportunities and access we can
offer our students. This partnership, along with many others in our community, is still
another example of Hamilton County coming together to ensure our students thrive and
live a future without limits.

Michael Stone, PEF's Vice President of Innovative Learning, leads the fellowship. "STEM
Fellows provide an excellent opportunity for teachers to gain hands-on experience in the modern world
workforce as they develop innovative lessons that prepare their students to thrive," Stone said.
"We are especially proud that STEM Scholars have helped eight Hamilton County schools win
the state's STEM designation, the state's highest recognition.

Fellows also mentor business leaders in their community to develop a more in-depth approach
understanding of current labor needs. The previous cohort had job matches across a range
companies including Naturally Knotty Hair Care, Green Spaces, Reflection Riding and TVA.

Over the past 10 years, more than 270 teachers from 125 schools and 18 districts have graduated
STEM scholars.

PEF congratulates the members of the 2022-2023 STEM Scholars cohort.

Cohort of STEM 10.0 Fellows:
• Joyce Baker, Tyner Academy
• Kayla Bowman, Daisy Elementary
• Mandy Carter, Lookout Valley Elementary
• Sarah Conrad, Waterville Community Primary School
• Robbie Dillard, Orchard Knob Middle
• Alyssa DiNitto, Chattanooga School of Arts and Sciences
• Kimberly Folson, Willow Oaks Elementary School
• Ayana Gustus, Tyner Middle
• Laycica Harjes, Brown Middle
• Alden Hawkins, Thrasher primary
• Natasha Hennessey, Brown Academy
• Emily Hurst, HCS Innovation Team
• Diane Johnson, East Lake Academy of Fine Arts
• Patti Jones, East Lake Academy of Fine Arts
• Olivia Kane, Chattanooga STEM School
• Ginger King, Ooltewah Middle
• Chris Kizziah, Red Bank Middle
• Abby Klett, Dalewood Middle
• Ashley Lepard, East Side Elementary
• Antonia Luttrell, Spring Creek Elementary School
• Ricky McEvoy, Thrasher Elementary
• Amanda Panter, Red Bank High School
• Ronda Phillips, Donald P. Yates primary
• Emily Rossman, Harrison Elementary
• Stephanie Smith, Hixson Middle
• Brooke Smith, East Brainerd Primary School
• Lori Spencer, Brainerd High School
• Bruce Stubblefield, Ooltewah High School
• Jami Thomason, Dalewood Middle
• Traves Welch, East Lake Academy of Fine Arts
• Jeannette Yann, Spring Creek Elementary School