On display, finally: "Tarred Healing" at the Chapel Hill Public Library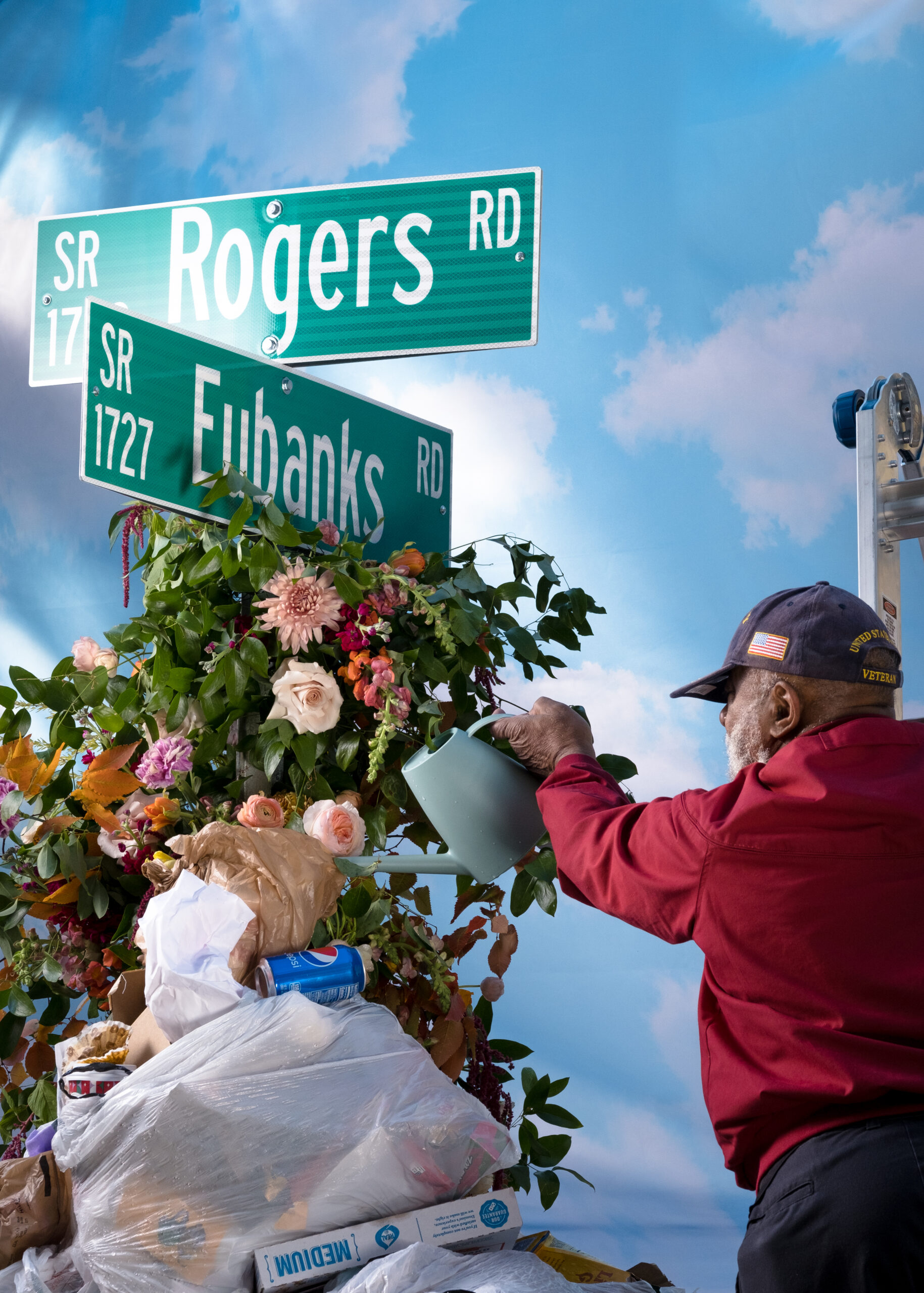 He never appeared at UNC's Stone Center, but this week local residents will have their first chance to see a provocative photo exhibit about black history, past and present, here in Chapel Hill.
The exhibition is "Asphalt Healing", by photojournalist Cornell Watson. First ordered by stone centerthe planned exhibition fell through earlier this year – in a highly publicized fashion – due to disputes involving some of the photos.
Watson's pictures eventually appeared in the Washington Post, but they haven't been exhibited in person – until now.
Starting April 30, Chapel Hill Public Library is hosting 'Tarred Healing' for two months until June 30. The exhibition begins with an opening reception on Saturday, April 30 from 7 to 9 p.m., free and open to the public.
The library exhibit will feature all 14 photos of Watson, including those believed to have been removed from the Stone Center. The Chapel Hill-Carrboro NAACP provided additional funding to prepare these photos for public display.
On Wednesday, 97.9 Aaron Keck of The Hill hosted Watson for a conversation about 'Tarred Healing', as part of his weekly 'Talking Books' feature with Chapel Hill Public Library Director Susan Brown.
Listen to their conversation.
Aaron Keck: We know the exposure, we've covered the saga of what happened with the Stone Center – but tell us about yourself.
Cornell Watson: So I'm originally from North Carolina, grew up in Halifax County, went to North Carolina A&T in Greensboro, and moved to Durham about seven years ago. My previous career was in HR talent acquisition. I did that for about eight years. I (originally) picked up a camera to photograph my daughter. She will be four years old in June, June 6th. (Then) I had friends say, hey, I see your pictures – can you take pictures of my kids too? And it became a part-time business.
Then the pandemic hit and I said, what am I supposed to do now? I can't enter families' houses. (So) I started working on a personal photo report entitled Behind the Mask – and then I lost my job on June 16th. I tell people that's when I got my freedom papers. (Right) After losing my job, I got a call from Durham Magazine and started working for them the following week. It's as if the stars were aligned. I photographed Keith Knight, who lives in Carrboro, for an article for Chapel Hill Magazine – and he called me a few weeks later and was like, "Hey man, do you want to photograph me for this assignment for the Washington Post? And in the back of my brain, I say to myself, I have no experience in photojournalism…
Kek: This is how all great careers begin!
Watson: So I'm doing this assignment for the Washington Post. And I reached out to them – it's my talent acquisition brain kicking in, you take advantage of those relationships – and I pitched this photo story I was working on, Behind the Mask, and they got it. published. And then after that – it was like overnight, I was a photojournalist, freelancer for the Washington Post and the New York Times. I ended up getting a scholarship for Behind the Mask from the Syracuse School of Communications to continue working on it, and I never looked back.
Kek: So tell us about the origins of Tarred Healing. How did this idea come to you?
Watson: The Stone Center contacted me (in 2020) after Behind the Mask was published in the Washington Post. Then in 2021 they formed an artist residency for me to come and do work, similar to Behind the Mask, but related to Chapel Hill, the black community of Chapel Hill. They kind of gave me this theme: "We want you to focus on black spaces in and around Chapel Hill (and) the university". I just started going to campus, just to get a feel for things – especially, like, black students, how black students feel, because they're going to tell you how it is.
Then they suggested places for me to visit. Rogers-Eubanks was one. I already had an old relationship with Rogers-Eubanks, I had done a report on environmental injustice for NC BREATHE, the environmental justice conference. (I've been) where James Cates was murdered, the Unsung Founders memorial, Silent Sam, (anywhere) you could think of related to the black community. Cemeteries, Barbee Cemetery, Old Chapel Hill Cemetery. I started going to those places and just sitting there with my thoughts, reading the University archives…
Kek: What were some of the most impactful or enlightening conversations you had?
Watson: The most enlightening are certainly with Rogers-Eubanks. Their story is just crazy. Because, you know, it predates environmental injustice, the things we know about with landfill. Their history goes back to the emancipation (from) slavery, even before that. And then when you think about how Rogers-Eubanks connects to the rest of Chapel Hill, it's just kinda crazy. So many families came from Rogers Road, the Caldwells, the Hogans, the Strayhorns.
Kek: It was the show we had been following in the news – it was supposed to go up at the Stone Center, and it ended up failing at the last minute. What was it like being in the middle of this?
Watson: Yes, it was like being in the eye of a tornado. Like, what in the world!
Kek: Not even the eye of the hurricane, that's the quiet part – the eye of the tornado, where all the crazy stuff happens!
Watson: Yeah, I think it took me a while to figure out what happened. In the moment, it's really easy to let things like that go – but then I really had to tell myself, it's bigger than me, there are other things that are impacted by this decision. The stories of Black Chapel Hill, and the people I met – those stories, they deserve to be heard. The other element is, with other artists who are facing similar issues – it's a time to really stand up and say, you know what, I'm going to support my work. And if I have to go and put it in the Washington Post to get these stories heard, then I'll put it in the Washington Post. And I think other artists felt inspired to champion their own work from that.
But I think one of the most important parts of it all is that the stories of Chapel Hill that often go unheard have a chance to be heard in a different way and felt in a different way, through photography.
Kek: From the outside, it looked like a strange series of misunderstandings. What else was going on beyond that?
Watson: It's easy to equate this to a series of misunderstandings, (but) I wouldn't agree with that. Especially when you look at a lot of the initial contact, when you look at the letter of intent about what was supposed to happen, the theme of things, how they approached me based on Behind the Mask, asking me to interview these places and tell these truths and all these things – like, I read the letter of intent and I was like, oh my God. Like, they know me! I was super excited about it. But once the photo series was done and I had created exactly what we had all been discussing – and (then) we try to exclude certain images, especially the ones with the student demonstrations – yeah, I would say that was less about communication issues and maybe more about how they wanted the story to be portrayed, and the level of influence on the art. You know, if you want an artist to come and create art, especially in a residency that's supposed to be a place where the resources are provided for you to create and think freely and do all those things – then you kind of have kind of take your thumb off the scale and let this thing happen.
Kek: So how come the exhibition goes up with the library?
Suzanne Brown: So I saw the story unfolding on Twitter, and contacted the Cornell website…Danita (Mason-Hogans) got a group of black community leaders together, (and) we got together and talked from the Cornell experience. And as I heard, it really reaffirmed in me that if Cornell and the community wanted him in the library, we would welcome him. We are a place where difficult conversations can and should happen. And we're all about stories told and untold, and comfortable and uncomfortable. So we've worked hard to give this show the treatment, respect and exposure we think it deserves.
Artist statement from Cornell Watson about "Tarred Healing":

There is much to celebrate about the contributions of the black community to Chapel Hill, North Carolina and America's oldest public university, the University of North Carolina Chapel Hill. The Chapel Hill Nine and the Freedom Fighters helped shape America into a more idealized version of itself. Black leadership is embedded in our history thanks to pioneers like Howard Lee, one of the first black mayors in the South. We also remember the multitude of pioneers who broke the ceilings of UNC such as Leroy Frasier, John Lewis Brandon, Ralph Frasier and Karen Parker, the first black students and the first black female student enrolled at this prestigious university.

Through their work, we also recognize the physical contributions that, in stone and mortar, are the foundations of the institution that are inherently the result of movable slavery. The blood, sweat and tears of our slave and free ancestors seeped into the ground, floors, walls and stones of this community and this university. It is only because of their determination to survive and persist that we are here today. Their spirit of unbroken resilience continues with us as there is still much healing and pioneering work to be done.

James Cates, who white supremacists murdered on campus, still needs us to fight for justice. Nikole Hannah-Jones showed us that we still have to fight for fairness and equality. The UNC board has shown us that we still have to fight for diversity. Rogers-Eubanks still needs us to fight environmental injustice. Our ancestors still need us to fight for our history to be remembered and honored. We still have to fight and dismantle the institutions of white supremacy. We still have to fight for reparations. We must intentionally recognize the many forms in which our diverse community seeks healing.

This photo series, a combination of conceptual and documentary photography, is a reflection of our truth through places, people and systems in Chapel Hill. It is a shameless archive of our feelings and emotions. It's a self-healing vessel. Despite the continued obstruction by the whiteness, we will heal, even if it is tarred.
Featured photo by Aaron Keck.
---
Chapelboro.com does not charge subscription fees, and you can directly support our local journalism efforts here. Want more of what you see on Chapelboro? Let us bring you free local news and community information by signing up to our bi-weekly newsletter.
Related