Launch of a public consultation on a housing referendum in Ireland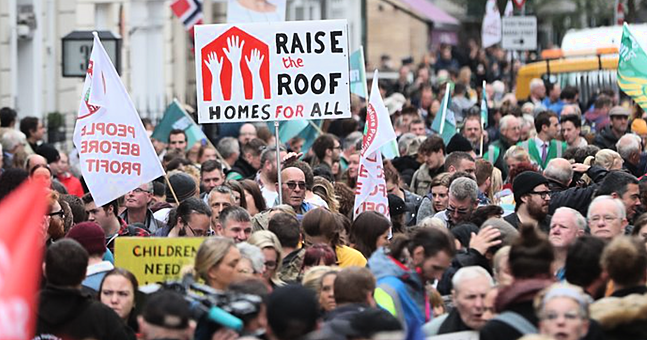 The public consultation on a possible housing referendum in Ireland will remain open until Friday 2 September.
The Housing Commission launched a public consultation this week to seek views on a housing referendum in Ireland.
The consultation calls for submissions to consider whether there should be a constitutional amendment and, if so, what form it should take. As many people as possible need to have their say on a housing referendum in Ireland.
Members of the public, public officials, organizations involved in housing, people working in related policy and legal fields are now invited to send submissions to help the Commission provide independent advice to the government on a possible constitutional amendment.
According to Rory Hearne, assistant professor of social policy at Maynooth University and author of Housing shock, the right to housing should provide a framework for a radical change in the Irish approach to housing. This right is set out in the United Nations Rights-Based Shelter Strategies.
Call to help ensure that a referendum on the right to housing takes place!
Can you please make a submission to the Housing Commission;
Ask for the Referendum to insert the Right to Housing in the Constitution
A few points to help you along the thread; 1/5
Submit;https://t.co/I0gMSQYLGF

—Rory Hearne (@RoryHearne) July 5, 2022
The amendment would shift public debate around the treatment of housing as a human right and create a positive and progressive state obligation to address the housing and homelessness crisis.
Ideally, the change would also strengthen the government's ability to implement housing policy measures with some level of permanence. Many housing activists at home and abroad have called for the right to housing or safe housing to be enshrined in the Constitution.
The public consultation will remain open until Friday 2 September.
"I warmly welcome the launch of the Housing Commission's consultation on a housing referendum in Ireland," said John O'Connor, Chair of the Housing Commission. "Housing is everyone's concern and I recognize that many people have opinions about what form a constitutional amendment to Housing might take. This consultation allows citizens, people working in housing and related fields, tenants and owners to express themselves on this important subject.
"I would like to take this opportunity to encourage anyone wishing to participate in this consultation. This is an important opportunity to help us identify the varied and critical views on a housing referendum.
The Housing Commission held a 'Housing Referendum Conference in Ireland' at UCD Law School on 10-11 May. The two-day conference brought together a range of Irish and international experts who shared their views on housing experiences nationally and internationally and highlighted the complex constitutional issues to be considered.
"Following our conference in May where experts shared their views, we are now seeking wider consultation with the public," said Ailbhe O'Neill BL, Chair of the Commission's Referendum Sub-Committee.
"This consultation is important for the Housing Commission as it helps us think about what a housing referendum in Ireland might look like. I urge anyone interested to take this opportunity to share their views with the Commission ."
There are 3 ways to provide your opinions:
Responding to the consultation, 'Public Consultation on a Housing Referendum'
By sending a quote by email to: [email protected]
By posting a submission to: Housing Commission, Custom House, Dublin 1, D01 W6X0
Respondents are encouraged to limit their submissions to a maximum of 2,500 words.
Please submit your submission by Friday, September 2, 2022.