Kingsville Public Library Receives Blessing Box | New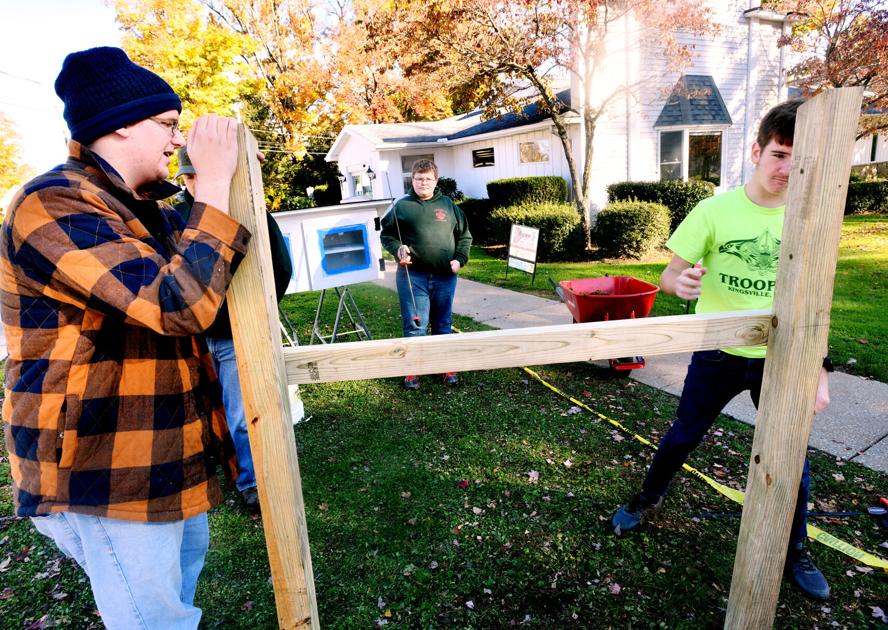 KINGSVILLE TOWNSHIP – A new blessing box has been built at the Kingsville Public Library thanks to Nickolas Mason, who decided to build the box as part of his Eagle Scout project.
"We have partnered with both the library and the Kingsville Presbyterian Church," Mason said.
He was watching the other Scouts from Troop 11 working on the project. He said the plans began over a year ago with help from Allen Fazenbaker, who is helping Eagle Scout candidates work on their projects.
"He helped me with the ideas and finalizing the plans," Mason said.
He said the project also included a lot of paperwork, emails and communications with officials from the Lake Erie Boy Scout Council and others.
Mason worked with other Boy Scouts and Boy Scouts Mike Corbitt and John Repasky on Saturday afternoon to assemble the box, which will be held on the north side of the library near a library panel built by Troop 11 Eagle Scout Dylan French.
The Boy Scout Troop has been sponsored by the Kingsville Presbyterian Church for almost 100 years, with records dating back to the 1920s, and has a long history of Eagle Scouts as well.
Repasky is the Scout Leader and thinks it's important to focus on the Eagle Scout option.
"In my opinion, this is the ultimate goal of scouting. … It's a privilege to be part of it, "he said.
Mason said he got 44 merit badges and learned a lot about organization and time management during the project. He said he was in his final year at Edgewood High School and hopes to continue his education next year at Kent State Ashtabula.
The final stage of the project will be a review committee that will ensure the project meets standards as expected, said Corbitt, an assistant scout leader.
The Blessing Box allows people to donate a variety of items that others may need. People can take them as needed.