King Abdulaziz Public Library signs MoU with Chinese Bayt El-Hekma Group to strengthen cooperation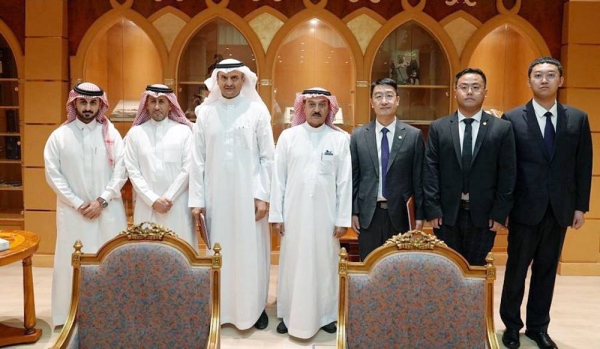 Riyadh — King Abdulaziz Public Library at its headquarters on Monday signed a memorandum of understanding with Chinese group Bayt El-Hekma in several areas.
The memorandum aims to strengthen cooperation between Saudi Arabia and China in the areas of culture, knowledge and language, among others, in a way that includes common areas of interest to both sides.
The agreement includes the exchange of translations and publications between Saudi Arabia and China, the exchange of cultural visits, the holding of scientific and know-how meetings and the holding of specialized exhibitions.
The memorandum also aims to support the existing partnership between the two countries and the links between China's Belt and Road Initiative and Saudi Vision 2030, in addition to working to activate cultural commonalities and mutual knowledge. of cultural heritage.
The two sides plan to jointly organize forums, expert dialogues and exhibitions, among other activities of concern in Saudi Arabia and China on traditional culture and cultural heritage between the two countries.
The Director General of the King Abdulaziz Public Library, Dr. Bandar Al-Mobarak, and the founding partner of Bayt El-Hekma signed the memorandum.
Dr. Al-Mobarak said the agreement is part of the library's interest in communicating and interacting with various local and international cultural and social platforms, institutions and associations to broaden aspects of cultural work.
It would also help in conveying Saudi culture with its various elements to the world and to those who are interested in Saudi culture with its various Arabic, Islamic and cultural dimensions.
This cooperation with China is a look at the existing cooperation between the library and Chinese culture since the inauguration of the branch of the King Abdulaziz Public Library at Peking University, which receives the attention of the guardian of the two holy mosques, King Salman and the crown prince. Muhammad Bin Salman, Deputy Prime Minister and Defense Minister.
Dr. Al-Mobarak expressed the hope that this cooperation will achieve the envisioned level of a prestigious and distinguished cultural exchange, especially that the Arab and Chinese civilizations are among the deep-rooted cultures that have clearly contributed to the spread of science. and knowledge in the world.
The King Abdulaziz Public Library, with all its internal and external branches, seeks to disseminate knowledge and culture, provide sources of knowledge and facilitate its use, make it available to society by organizing symposia, conferences and exhibitions, and supporting scientific research, writing, publication and provision of information services and development of children's culture.
Bayt El-Hekma Group for Culture and Media owns Sirs for Internet and Technology, Bayt El-Hekma for Educational Consultation and has several branches in Beijing, UAE, Saudi Arabia and more than 13 branches in China and abroad .
The group's work focuses on the culture and tourism sector; the Internet sector; the international Chinese language education sector; and the international investment sector.
The group also does cultural exchanges, translating and editing books; produce films, series and animations; teach the Chinese language; and intelligent machine translation, among others in the Arab world, which has formed an international specialized cultural industry group in the series of comprehensive culture industry. — SPA