"Five Little Indians": Moose Jaw Public Library Book Club discusses residential school novel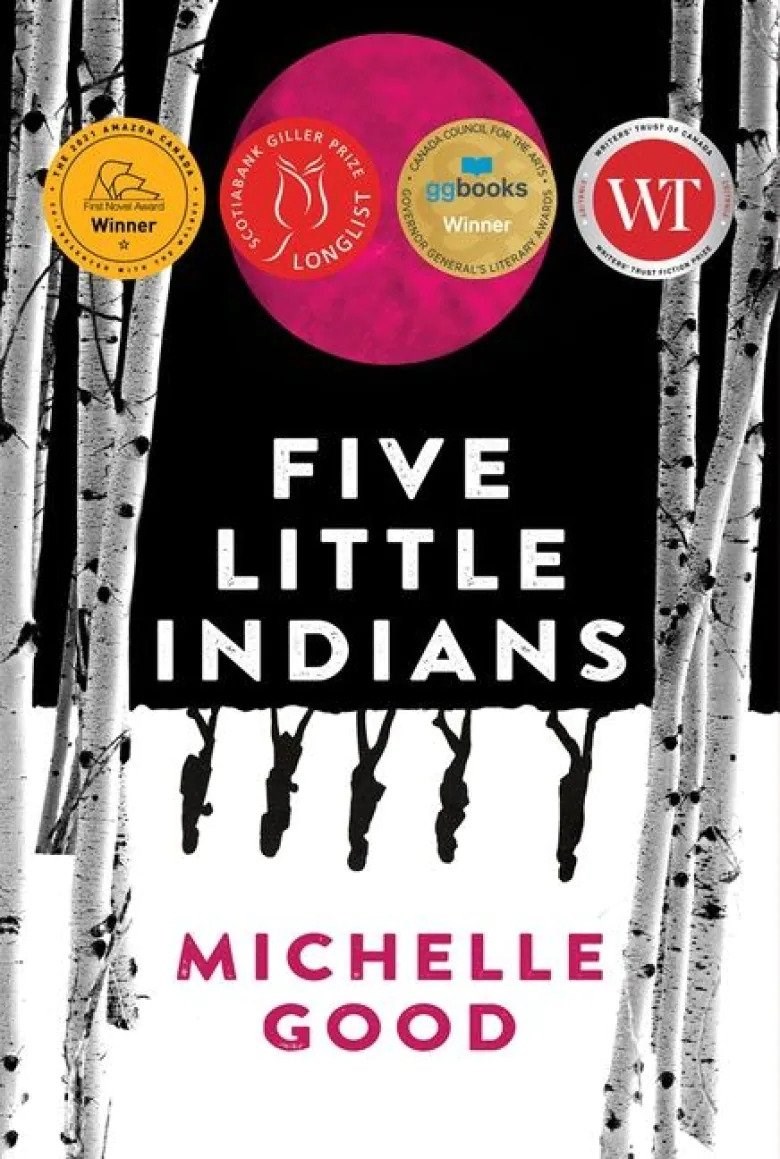 The conversation revolves around residential schools and the book's author's question, "Why can't they just get over it?" »
The Moose Jaw Public Library Book Club gathered to discuss Michelle Good's 'Five Little Indians', a bestseller that has won numerous awards including the 2020 Governor General's Literary Award for Fiction and , most recently, the 2022 award Canada reads competition.
Michelle Good is the daughter and granddaughter of residential school survivors and a member of the Red Pheasant Cree Nation of Saskatchewan. She earned a law degree in her 40s, an MFA in creative writing in her 50s, and published her first novel in her 60s – after nine years of writing and editing.
The question she strove to answer was: "Why can't they just get over it?
The book club members unanimously agreed that the novel has a profound emotional impact and has permanently changed their perspective on residential schools and those who were "educated" there.
Note: The novel deals with sensitive topics such as racism. Please read this article with understanding, discernment, and an understanding of the conversation at the book club meeting around the situations described in the novel.
"Five Little Indians" is not the story of a trauma experienced in the Vancouver Island boarding school attended by its protagonists. Rather, it's about the aftermath — and what it's like to try to live past that kind of childhood.
A book club participant said the novel evoked memories of his childhood in Vancouver. Everyone knew the Downtown Eastside was full of heavy drinking, they said, and it was not uncommon to see (racially profiled) under the influence.
"The book really made me think about the fact that none of us ever thought to ask why (residential school survivors) drank," they said, "and how they ended up like that. And after reading this, (my thought was), 'I'd probably do that too.'
Another participant spoke of a part of the book where residential school graduates were dropped off at a bus stop with no money, no transfer, no orientation – at age 16.
"Even if residential school had been a good experience, you know, without trauma and with a real education," said the participant, "even then, how could they be expected to succeed? They weren't prepared, they had no one to call. They were just a bunch of teenagers dropped off on the streets of downtown Vancouver.
Another emotional impact came from the story of Kenny, taken from home at the age of six to attend boarding school. He escapes from school and returns home after seven years, aged 13, to find that his parents could not cope with his estrangement. Their marriage failed and they were emotionally unable to respond appropriately to her return home.
These memories are naturally told as the novel tells the story of the five survivors trying to make careers, build relationships, and reconnect with their culture.
Good spent eight years representing residential school survivors full-time as a lawyer. The novel is fictional, but the stories are all real – not exaggerated.
"What I can't get out of my head," said a book club member, "is the image of six-year-olds waiting for their families at Christmas and not understanding that their parents don't really know where they are."
Another participant said that the book effectively answered the question, 'Why can't they just get over it? It was expressed that a normal childhood and family support were taken away from these children. All participants agreed that regardless of their background, the novel shows that anyone who was not in residential schools struggles to understand the experience of survivors.
An example in the novel is a Native survivor whose boyfriend, also Native, cannot understand her. He complains of his emotional withdrawal and his difficulties with intimacy. Her parents also survived residential school, but were unable to tell her how it shaped them.
At the end of the discussion, the book club descended on the permanent collection of shoes from the steps of St. Andrew's United Church of the Moose Jaw Museum & Art Gallery. Launched in recognition of the 215 unmarked graves found at the Kamloops residential school, the St. Andrew's exhibit quickly became a more significant symbol for the Moose Jaw community of the continued need to actively participate in reconciliation.
"Five Little Indians" by Michelle Good can be borrowed from the Moose Jaw Public Library in several formats. It is available for purchase virtually anywhere books are sold.
The next MJPL book club meeting will be on Wednesday, May 4 at 2:30 p.m. to discuss "Reproduction," a novel by Canadian author Ian Williams.