Arne Duncan: It's time to make quality public education a civil right for all children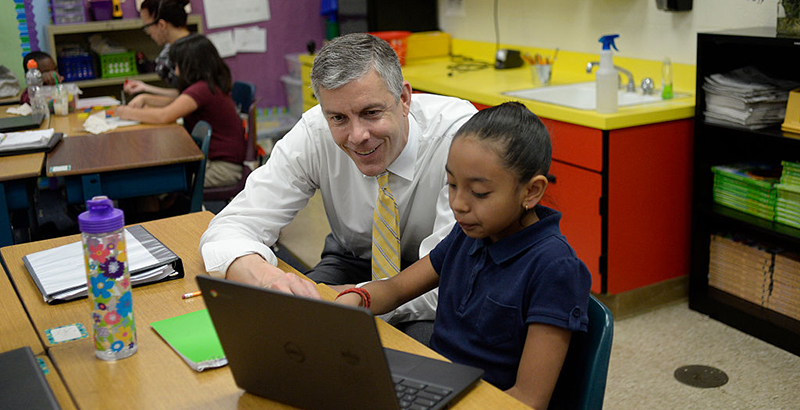 register here for The 74's daily newsletter. Donate here to support The 74's independent journalism.
A generation ago, leaders like Dr. Martin Luther King and Thurgood Marshall advocated for quality education as a civil right for all children. Ten years ago, President Barack Obama declared education "the civil rights issue of our time." And yet, the tragic reality for millions of children today is that a quality education is far from a civil right.
Scan the constitutions of most states and you won't find any clause guaranteeing every child the right to a quality public education. They promise free, but not excellent, public education.
It's no wonder that states across the country have failed to provide quality public education to so many students, especially children of color and those who are economically disadvantaged. Even before the pandemic, only 35% of U.S. fourth-graders were reading at the grade level, along with just 22% of Latino students and 15% of African-American eighth-graders, according to the National Education Progress Assessment .
These results are not inevitable. They are the result, in many cases, of policies formulated by a system that was never designed and is not encouraged to put the needs of all students first. Convinced that a quality public education – not just free – should be a civil right for all American children, President Obama and I have advocated for parental empowerment and a student-centered curriculum with better opportunities. education for millions of young people across the country.
Stay informed.
Invest in independent journalism. And help The 74 make an impact.
Help us reach our Spring Campaign membership goal.
But much more needs to be done to meet this moment for America's children and parents. At the state level, countless policies perpetuate educational injustice. In most states, these have so far been nearly impossible to change because children cannot vote, parents have no lobbyists, and the right to a quality public education is not enshrined in the Constitution.
A growing movement of parents, educators, and community leaders in several states began advocating for a change in their states' constitutions. Last year, bills were introduced in the legislatures of New Mexico, Nevada and Minnesota to enshrine the right to a quality education in their constitutions. These movements have continued to gain momentum recently in Minnesota and California to establish a long-awaited seat at the table for public school parents to advocate for all students.
The Page Amendment campaign in Minnesota is leading this national movement. It is led by a broad coalition that includes youth, parents, education and community leaders, businesses, sovereign tribal nations, and including Neel Kashkari, President of the Federal Reserve Bank of Minneapolis, and Alan Page, former justice of the Supreme Court of Minnesota and iconic alumnus. Minnesota Vikings. Their initiative would amend the state constitution to add, "All children have a fundamental right to a quality public education that fully prepares them with the skills necessary to participate in the economy, our democracy, and society."
Related
NFL star-turned-judge and Federal Reserve chairman want to change Minnesota constitution to require quality schools
The campaign has built a broad, bipartisan legislative coalition, aiming to hold a historic public referendum on civil rights in November.
Throughout two decades of working to improve American public education, as Superintendent of Chicago Public Schools and then as Obama's Secretary of Education, I learned that bold steps were needed to transform struggling schools and entrenched bureaucracies. When politicians and special interests defend the status quo, it takes the power of parents to compel the public school system to meet the needs of students.
Establishing a constitutional right to a quality public education would give parents the right to challenge policies that harm students and double down on long-standing injustices. Such a tool would be especially valuable for communities of color, where the education bureaucracy has failed generations of children and ignored generations of parents.
In the wake of pandemic-related school closures that have denied in-person learning to millions of children up to 18 months old, parents in Virginia, San Francisco and elsewhere have voted against Democrats who were seen as adopting the status quo to the detriment of children. Especially in this unique moment, relegating parents to the sidelines and telling them to leave their children's education to the so-called experts has proven to be a losing political strategy.
Politicians have talked about education as a civil right for generations, but too often only as a metaphor. Allowing parents to advocate for all students would make public education more public. This would reorient education policy-making around student learning, because all children deserve the opportunity to reach their full potential, regardless of race, ethnicity, disability, geographic location or socio-economic.
It's our time. Now is the time for Minnesota to blaze a trail for the nation by translating "kids first" from a sound bite into a civil right for all public school students.
Arne Duncan is managing partner of the Emerson Collective, former Secretary of Education and Superintendent of Chicago Schools, and author of "How Schools Work."
Related
Subscribe to The 74's newsletter
Submit a letter to the editor